LIFE SCIENCES NEWSLETTER
E-CIGARETTES AND TOBACCO PRODUCTS
1. E-CIGARETTES
Peru does not have a specific regulation for e-cigarettes. In addition, provisions regulating the use of tobacco (Act No. 28705 "General Act for the Prevention and Control of Tobacco Consumption Risks" and its Regulations approved by Supreme Executive Order No. 015-2008-SA) are not applicable for this type of product. Therefore, they do not satisfy the definition of "Tobacco Products" set forth in the Regulations.
"Tobacco Products" are defined as "products prepared using totally or partially tobacco leaves as raw material, and that are intended for smoking, dipping, chewing or snuffing". In this sense, the definition has two criteria that must be met to be qualified as a "tobacco product": (i) the raw material being used (tobacco leaves), and (ii) the way of consumption.
Due to the lack of specific regulatory framework, in January of this year, a group of congresspersons introduced a bill aimed to amend Act No. 28705, so electronic cigarettes may be include and restrictions similar to cigarette consumption, labeling and advertising could be imposed. This is the case of Bill No. 3833-2018 (Click here to read the document), that as we have been informed, it was lately withdrawn. Additionally, two other bills[1] were introduced considering the amendment to Act No. 28705 referring to prohibition of smoking in other areas and enlarging the warning size in packs.
[1]              Bill No. 3961/2018-CR, and Bill No. 4045/2018-CR
2. TOBACCO PRODUCTS
As the WHO Framework Convention on Tobacco Control (WHO FCTC) came into force in 2005, Peru started the implementation of the Convention provisions.
Therefore, in 2006, Act No. 28705 was published and, in 2008, its regulations were approved. The following key measures were set forth therein: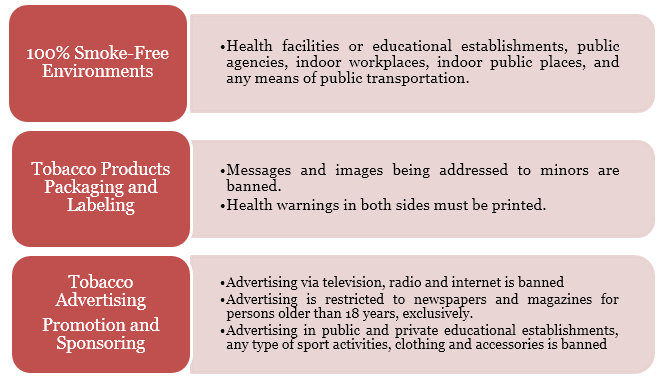 Entities enforcing these regulations are as follows: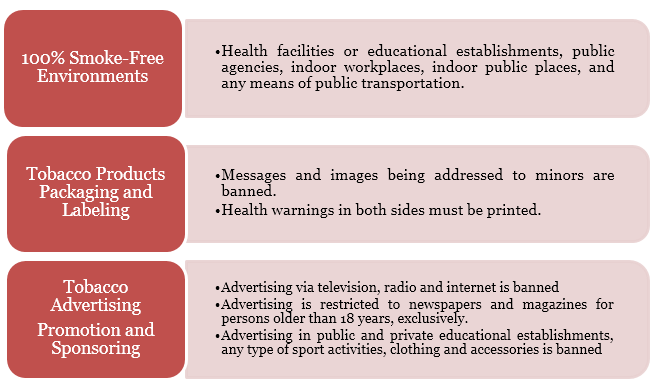 In regards to labeling, there is INDECOPI case law on the following topics:
– Information that shall be in Spanish being referred to the tar, nicotine, and carbon monoxide contents[1], storage conditions, observations, product conditions, net content of the product, and product supply that may be dangerous to health[2].
Therefore, there are no legal provisions establishing any obligation to include another information in Spanish[3].
– Using the word "Fresh" is permitted. It suggests freshness and does not mislead consumers about product qualities implying positive aspects on health, as "Light" or similar words might suggest[4].
For further details, please contact to Maritza Reátegui (mreategui@estudiorodrigo.com), Ricardo De Vettor (rdevettor@estudiorodrigo.com)  and/or Cecilia Alarcón (calarcon@estudiorodrigo.com).
[1]              Supreme Executive Order No. 015-2008-SA. Section 24: Reference to carcinogens. Items 24.2 and 24.3
[2]               Act No. 28405. Section 3: Labelling information.
[3]               Order No. 051-2018/CCD-INDECOPI
[4]               Order No. 053-2018/CCD-INDECOPI