LABOR NEWSLETTER
REM TODAY
Employers' new obligations in matters of sexual harassment
For further details, click here.
Guidelines of reasonable adjustment for persons with disabilities and of determining the existence of a disproportionate or undue load are approved. The main amendments provided for by Ministerial Order No. 171-2019-TR and Supreme Executive Order No. 013-2019-MIMP are as follows:
(I) During recruitment process
Reasonable adjustments apply to every employee recruitment process.
The employer shall post jobs in accessible formats for disabled people (easy reading, audio, etc.)
Application forms shall have an entry where applicants with disabilities can detail reasonable adjustments they require during the recruitment process.
The employer shall implement the reasonable adjustments requested by the applicants or, otherwise, adopt alternative adjustments. This means adopting evaluation methodologies, procedures and instruments; interview methods; among others; as well as accessible conditions.
 (II) During employment
Reasonable adjustments during employment include the adaptation of working tools, machinery and work environment, including changes in the physical space, providing technical aids, support services; as well as adjustments in work organization and scheduling considering requirements and needs of workers with disabilities.
The employer shall reassign a person who become disabled during employment (or if disability became worst) to other position compatible with his/her abilities, without limiting to an available position.
The unjustified refusal of reasonable adjustments shall consider as a discrimination act.
Situations considered as disproportionate or undue load in the implementation of reasonable adjustments are as follows: (i) stoppage or alteration of the production cycle putting in risk company's production goals; (ii) a negative economic impact putting in risk the economic results to be expected for the pertinent year; or (iii) company's lack of liquidity impeding the duly compliance of its liabilities.
It has been struck therefrom: (i) the obligation to communicate the certificate of deliberative process for reasonable adjustments to the Administrative Labor Authority; (ii) the default form of reasonable adjustment request.
New platform for updating alien's data. All alien being in Peruvian territory and having submitted data for its recording to the Peruvian Immigration Service (MIGRACIONES) shall update them on MIGRACIONES website (www.migraciones.gob.pe) once the new platform is implemented.
REM CASE LAW
It is extended the protection of void dismissal of a worker whose pregnancy was terminated. The Supreme Court has ordered that the dismissal occurred one month after a pregnant worker suffered a miscarriage is void for having as a reason her pregnancy, to the extent the employer did not accredited the existence of imposed severe defaults. (Labor Cassation Case No. 15216-2018 LIMA).
REM INSPECTIONS
The National Superintendency of Labor Control (SUNAFIL) issued new regulatory criteria applicable to labor control. Pursuant to Superintendency's Order No. 61-2019-SUNAFIL, three new criteria have been adopted to standardize the interpretation of legal provisions:
(i) Union licenses: Not granting of union licenses shall be considered as a serious violation as per Section 24.11 of the Regulation of the General Labor Inspection Act, referring that "The non-compliance of the provisions related to the providing of facility for the exercise of union activities".
(ii) Category and functions chart and salary policies: The employer who does not have said documents has the possibility to remedy such omission. The labor inspector shall issue a requirement measure for such purposes.
(iii) Appearance order notice: The notice is valid provided that this would be sent to the inspected person's usual residence, unless the only person in such residence is the complainant. In this case, the notice should be delivered to another person.
SUNAFIL approves Protocol to control alien worker employment. For more details, click here.
SAFETY AND HEALTH IN THE WORKPLACE
New Occupational Safety and Health Regulation for Construction Sector. Said regulation complements Regulation G.50 on Safety during Construction Work and is in force as of July 12, 2019.
The main aspects under this regulation are as follows: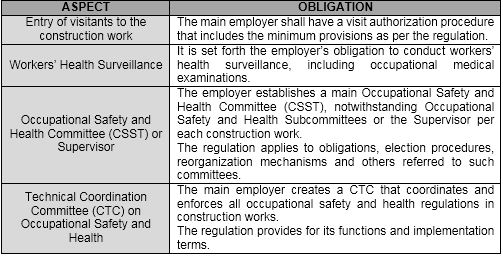 LABOR TEAM
If you wish, you can contact members of the labor team of Rodrigo, Elías & Medrano Abogados.
This bulletin contains the objective description of legal provisions, institutional reports of the Ministry of Labor, jurisprudence of the Constitutional Court and labor-related news. It does not contain the opinion of Rodrigo, Elías & Medrano Abogados on the matter, thus it cannot be considered as a source of interpretation or response to consultations.